An Uncommonly Common Goal
Stakeholders had a significant impact on
Grand Park's Design
Before drawing a single sketch, the County of Los Angeles in partnership with Grand Park architects Rios Clementi Hale Studios spent years soliciting input from local stakeholders, neighborhood residents, community groups, arts organizations and public officials.
By placing a priority on stakeholder feedback, the best ideas the community had to offer were incorporated into the final design keeping in mind future activation of the park – ideas generated from a broad coalition of interests were as diverse and varied as the county's population. The highest priority was given to suggestions for shade trees, picnic-friendly lawns, a dog run, a children's playground, restrooms; and performance, wellness and community gathering spaces for everyone.
The design process for Grand Park included community engagement meetings with as many stakeholders as possible, and through a series of public workshops soliciting community input starting in 2006. All workshops were webcast by the USC Annenberg's Norman Lear Center allowing remote participants to ask questions and submit ideas online.
At the first workshop, an innovative place-making "tool kit" allowed small work groups to turn their suggestions into concrete elements that could be used to visualize ideas. The design team created a master plan incorporating the communities suggestions which were reviewed and ranked by participants in the second workshop eight weeks later. By the third workshop, eighteen months later, the design team developed a final Master Plan with renderings for the park's four primary areas.
Want to more and get involved in Grand Park's future? Sign up now for a free membership to the Grand Park Foundation.
The Grand Scheme Of Things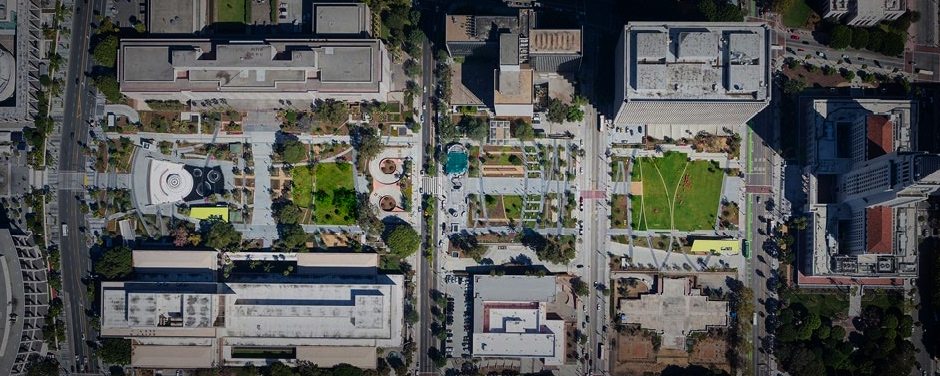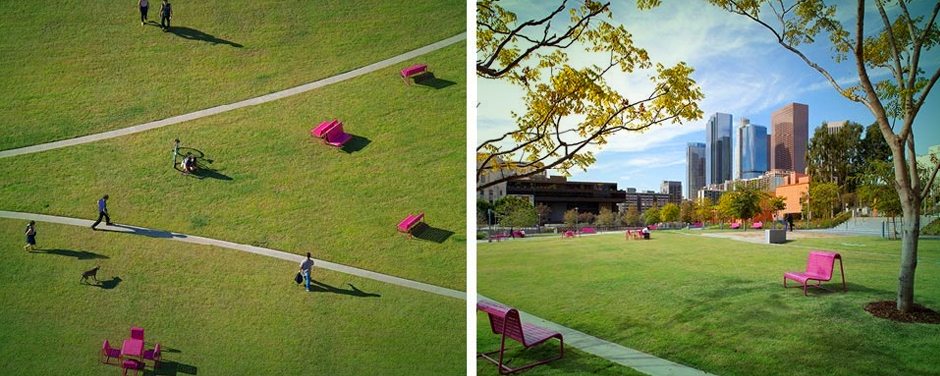 Grand Park is a 12-acre urban park in the heart of downtown Los Angeles. It opened in 2012, turning a neglected and often overlooked parcel of land into a spectacular community gathering space that serves as a centerpiece for Los Angeles County. This oasis of greenery links two of L.A.'s most iconic buildings: Frank Gehry's Walt Disney Concert Hall atop Bunker Hill and Los Angeles City Hall in the thick of downtown.
Grand Park is the first phase of a much broader reimagining of downtown Los Angeles known as the Grand Avenue Project. This urban development venture is s a collaborative venture in its truest sense, uniting the talents and vision of the County of Los Angeles, The Community Redevelopment Agency of the City of Los Angeles, and the private developer Related Companies.
Grand Park replaces the Civic Center Mall, a largely inaccessible pedestrian plaza. Known officially as El Paseo de los Pobladores de Los Angeles, it honored the city's original settlers. The new park, by contrast, celebrates the millions of people from around the world who followed those pioneers, making Los Angeles the multicultural capital it is today.
Turning this four-block area into a single, unified space was an architectural challenge, made even more difficult by a 90-foot change in elevation between Grand and Spring Streets. The area was designed decades ago for ease of vehicular traffic entering a below-grade parking structure. Daunting ramps and imposing government buildings cut off the site from its surroundings, making the plaza particularly unfriendly to pedestrians. The Court of Flags and a Metro station on Hill Street also had to be incorporated into the design.
To make this a truly Grand Park, Rios Clementi Hale Studios spent years soliciting the input of neighborhood residents, community groups, arts organizations, and elected officials before drawing a single sketch.
The ideas that emerged from this broad coalition of stakeholders were as diverse as Los Angeles itself— suggestions that fell by the wayside included a skating rink, a swimming pool, and a carousel. But what also became clear was the desire for shade trees, picnicking lawns, a dog run, and performance space. And public restrooms, of course.
The Arthur J. Will Memorial Fountain doesn't have a diving board or a deep end, but its splash pool, which encourages kids of all ages to jump in with both feet, is a refreshing place to cool off on a hot day. The Performance Lawn hosts concerts, film screenings, and other programs orchestrated by the neighboring The Music Center, bringing vibrancy to a part of downtown that previously felt deserted after dark. The even larger Event Lawn is a welcoming square of common ground in a city where public spaces are all too uncommon. A 2/3-mile pedestrian loop ties the entire site together.
"Invisible" infrastructure like terracing at Grand Avenue and at Broadway make the transition between levels more gradual, and create reasons to stop along the way— to sip a cup of coffee, dine alfresco, or simply soak in the views of the surrounding metropolis. And ADA-accessible pedestrian ramps not only mitigate the steep topography, they open the park to yet another audience: people with disabilities.
Taken together, the result is a greenbelt of open space uniquely suited to Los Angeles's multitude of cultures. It is indeed "The Park for Everyone."
Grand Park Architects Set out to Sit Down
Rios Clementi Hale Studios: All in the Details
Hot pink? Grand Park's hot pink chairs and benches have a notable history and fundamental significance. In an environment that portends to provide people with a brief getaway from the surrounding concrete and clamor of downtown LA color plays a vital role. The designers' extensive research revealed a rich tapestry of colors and textures that corresponded to the flora and fauna of the kingdoms that shaped Grand Park's many gardens. Surprisingly, hot pink surfaced from the common thread of bright colors of the world's cultures, primarily the hot-pink flowers always in bloom found in many equatorial countries.
Grand Park's signature hot-pink chairs and benches were inspired by the humble lawn chairs found at five and dime stores of years gone by. The visceral memory of vinyl straps thwacking against thighs remained important to the designers, Rios Clementi Hale Studio, as they explored numerous ways of updating and improving on this classic piece of outdoor furniture.
The park features five different variations of the chair/ bench, all of which were manufactured by California based furniture-maker Janus et Cie. Following in the tradition of other great city parks like Paris' Luxembourg Gardens, most of the furniture is not bolted to the ground and can be moved from space to space allowing for endless configurations.